Stacey is the cutest girl EVER! She randomly decided to sponsor my blog one day and I immediately knew she needed to come write on my blog about fashion! I'm so glad she decided to guest post and I already love her!
She's the cutest little mommy and has the most adorable baby boy! Go check out her blog and her lovely outfits!
So, without further adieu...
Hi! My name is Stacey and I have a blog over at
GoodMorningLoretta.com
where I blog all about Life in the South and Southern Style. I am so excited to guest post here at Imma Walking Fashion Crime and with spring getting warmer and warmer I thought It'd be fun to share my thoughts on how to dress for spring! Down here in Georgia, we have been having so many of those chilly morning, yet hot afternoon days and they can be tricky to dress for!
One of the most well known tips for dressing in spring is layering. With layers you can put on a layer if it gets too cold or take one off when it gets hot in the afternoon. Layers are also great for when you are going somewhere and it's hot outside but you've got to be inside somewhere most of the day and they've got the A.C. on below freezing. That drives me crazy. Bring a cute cardi so you can be warm.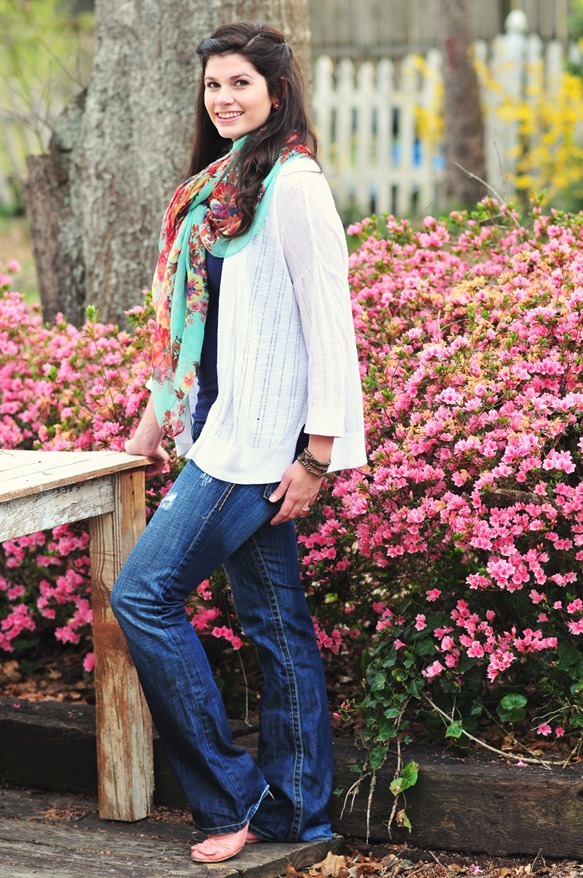 Another secret weapon: lightweight scarves. I own so many scarves. They seem like an accessory but really can keep you pretty warm when it's breezy outside but aren't too hot for a spring afternoon. Bonus points if they have a fun, floral print!
My real secret weapon for dressing in the spring is fabrics. I love spring because you can start reintroducing lightweight fabrics like seersucker, lace and chiffon. Chiffon dominates so much of my spring wardrobe. Here are a few recent outfits I've done on my blog, and as you can see, I love chiffon dresses, skirts, shirts, scarves, and even pants. Chiffon is so nice for spring because it has that flowy, flirty, romantic look that we all love about spring but since it is always lined, it also has a nice weight to it, which is good if it's chilly still.
Thanks Elisabeth for letting me guest post here at Imma Walking Fashion Crime , and I hope that ya'll will come check out my blog at
GoodMorningLoretta.com
! Let me know what your tips for dressing for spring are!
Thank YOU Stacey for guest posting! Leave her a sweet comment and let her know what you think about spring style!